Insights
Trent Creative Receives the BEST of MichBusiness Award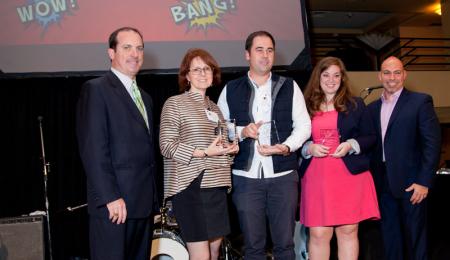 ROCHESTER, Mich. – Marketing and design studio, Trent Creative, was presented with the BEST of MichBusiness Award. On November 17, 2015, Marilyn Trent accepted this award at an awards ceremony at the International Banquet Center at the Atheneum Suites Hotel, 100 Brush Street in the heart of Detroit's vibrant downtown.
Trent Creative and nearly 100 other honorees in various categories celebrated in grand style at the MichBusiness Award's version of the Oscars, sponsored by the Michigan Business and Professional Association. Trent Creative was honored in the category of Marketing Savants.
The evening featured local foods in a strolling dinner, networking and a gala awards ceremony held in a luxurious theatre-style auditorium followed by a Congratulate the Winners Afterglow featuring live music.
About Trent Creative
Marilyn Trent, principal of Trent Creative, founded her marketing and design company in 1991. Coming out of an ad agency she wanted to set up a different process of helping clients achieve their marketing goals. To her, this meant that the creative was brought to the forefront with marketing in all discussions about each project. Coming from the creative side, she felt that the visual solution was often times coming up at the end of the project in the thought process.
Today the studio successfully implements growth and economic development strategies through branding, web development and graphic design with companies from $2 million to $300 million. This concept of 'strategic design' with the interplay of innovative marketing techniques has been rewarded with over 12 local and national awards during the past three years.
A Rochester resident, Trent serves on the Rochester Downtown Development Authority Board of Directors where she was named Volunteer of the Year. She is also co-founder of the Green City Committee, which assisted in organizing the first Michigan Earth Day Festival in downtown Rochester. In 2013, the Rochester Regional Chamber of Commerce awarded her the Business Woman of the Year at the annual Sunrise Pinnacle Awards breakfast. Trent is Women Business Enterprise certified. For more information or to contact Trent Creative, please visit trentcreative.com.
About MBPA and MichBusiness
MichBusiness, a social media community that celebrates and promotes the success of Michigan businesses, is powered by the Michigan Business and Professional Association (MBPA).  
The Michigan Business and Professional Association boasts a statewide sphere of influence that no other organization of its kind can claim, leveraging a depth of programs and community initiatives that positively impact more than 150,000 businesses. Learn more at www.michbusiness.org.
For a complete listing of all of the winners or to find out more information about the MichBusiness Awards visit www.michbusiness.com.