Insights
A Working Mom During a Global Pandemic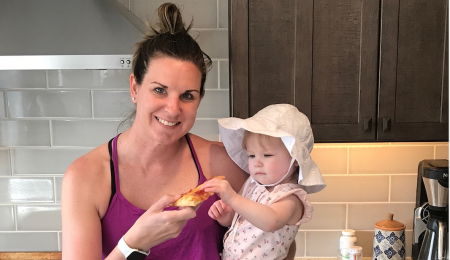 The term work-life balance took on a whole new meaning this year when COVID-19 hit. For some; it means working from home by yourself with only your dog to talk to. For others; it means homeschooling three kids and working full-time while your husband is on the front-lines. And for others, it means thinking of creative ways to continue working even though you're not deemed essential. Although we all have different stories, I think we're finding it is also very much the same story.
Here is my story—the working mom
I've always enjoyed going to work every day, challenging myself, learning, and growing in the so-called "real world." When I became a mom, my perspective changed as I learned how to balance and juggle caring for my daughter while working at a career that I love. Of course, the mom guilt sets in—dropping my 15-month old daughter off at daycare, and leaving others to care for her or the days I work later than normal or when I have to rely on others for help. At the end of the day, I believe it helps me become a better version of myself. 
The mom in quarantine 
Then the world was faced with COVID-19. What started across the globe made its way into our reality and we were forced to adjust our lives during this pandemic by sheltering in place and having no physical contact from the ones we love outside of our home.
We are now forced to work from home while simultaneously entertaining and homeschooling our children, keeping a clean house, putting food on the table, getting groceries, staying mentally sane, and trying to get a workout in. Oh sure, that sounds feasible, I'll get right on that. Ok; so I actually will because that's the only choice. As this pandemic began running its course, we were faced with a million questions—some of which really cannot be answered. As a mother of a toddler, one of my main responsibilities is always to keep my daughter as safe and healthy as possible, but now, this has taken on a whole new meaning. 
The mom who overthinks everything
I have always been a worrier and someone with anxiety, so leaving the house to get essential items such as groceries has become rather terrifying. Hearing that your groceries should be wiped off and your bags should remain in the garage for several days to ensure the virus is not on them (and then hearing this is actually not necessary) is not so great for an over-thinker. What am I supposed to believe? Does anyone actually have the answers? I am so thankful for my husband who is able to think practically and logically when I am spinning off the rails. 
The mom who must adapt
Isn't it crazy how we adapt to change? It's so easy to get thrown off by the most ridiculous, minute pet peeve. Some hate it, some don't mind it and maybe even some don't realize it's happening. Maybe not in this case but sometimes it's not so obvious change is even taking place because we really have no control over the situation of which I am living (#ourcurrentsituation). How do we overcome it and remain positive? I have asked myself this so many times as all of this is so easy to become negative and let this pandemic get the best of me. 
The mom with a new perspective
As we approach the end of another week in quarantine I have tried to focus on the positives. I am able to be home with my family—we have a sign on our fireplace that says, "Feels good to be home," so why should I be upset that I am in my safe place with my husband, my daughter, and our dog? How am I staying sane? I make myself a list each day—what absolutely has to get done and what can wait between work-life and home-life? Sounds easy right? But some days it just seems like I'm trying to climb Mt. Everest. Each morning I take a minute to make a plan for the coming day. My husband and I review our workdays together to determine when we put our "working mom" and "working dad" hats on throughout the day. Let's be honest, what working mom out there stays tucked away in the home office, with the door closed, for a second to breathe even after the conference call is over? I won't tell if you don't. 
The mom who is balancing the new normal
As this new normal continues, I make sure to spend quality playtime with my daughter and helping her explore new things (otherwise #momguilt sets in). I make a point to catch up with my husband after we put our daughter down for bed (usually with a glass of wine in hand). I take time for myself and my mental and physical health—whether it is going for a run or catching up on Netflix. Whatever I need to do during my day to feel as healthy as possible, is just what I do. 
I am healthy, my family is healthy, my friends are healthy and we're going to be okay. This is just a blip on the radar and we're going to get through it together.
We created a coloring book to help working moms keep their children occupied during the day!